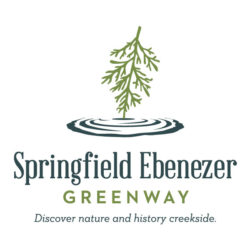 The Springfield Ebenezer Greenway is an effort lead by the City of Springfield to bring awareness to Ebenezer Creek while helping to support and promote this natural resource, helping to promote conservation efforts and stewardship of this ecologically-rich area and National Natural Landmark.
The City of Springfield is dedicated to preserving the connection between the historic settlement at Ebenezer and county seat in Springfield. Ebenezer Creek provides a physical connection between the two and creating the Greenway is attempting to preserve that connection. Part of creating this connection is developing public access areas along the creek. The city has made significant investments on Jack's Branch where the Effingham Historical Society's Living History Site and Museum are located. In addition, the city has developed a plan for property that it currently owns at the corner of Stillwell Road and Ash St. that also borders Ebenezer Creek and can serve as another public area of the Greenway. The Thompson Island Conservation Property and the Ebeneezer Crossing Property also offer potential for building onto the Greenway.
Part of this effort is the creation of this website. Content for this site will include launch points, guided tours, equipment rentals, historical significance and events, ecological facts, wildlife and landmarks that can be found on and adjacent to the creek. We hope that it will become a critical tool to promote the creek to recreational users and tourists, including day-trippers from surrounding areas.  By increasing local interest and awareness about the creek, which will be important in fostering a sense of stewardship for the creek as well as expanding local economic development opportunities. This site will include professional photography and verified historical data. We have  also developed new branding and collateral to help advertise our efforts.
A partner to the website will be the mobile app which will be a geo-referenced guide that will identify areas of interest, wildlife, significant landmarks, as well as historical events that took place along the creek. We have consulted with local tour guides and archaeologists who have been working on and around the creek to create a multifaceted guide that will appeal to tourists of all interests.
Enjoying are site?
Our site is new and we are still working on it. We would love to hear your comments about changes, corrections or any additional info that needs to be on this site. Please email your suggestions to [email protected].